Spring has sprung and you know what that means, the fishing is on fire! If you're in the Wilmington, North Carolina area and want to get in on some deep sea fishing action, wait no more. While the inshore fishing is equally as hot, offshore fishing off the coast of North Carolina is an experience unlike any other. With the Gulf Stream only a measly 15 miles out, you'll be fishing in one of the most explosive marine habitats in the world in no time. Teeming with life, the Gulf Stream offers incredible catches from mahi-mahi, false albacore, bonita, king mackerel, wahoo and more! The action is fast and furious with many fish being caught.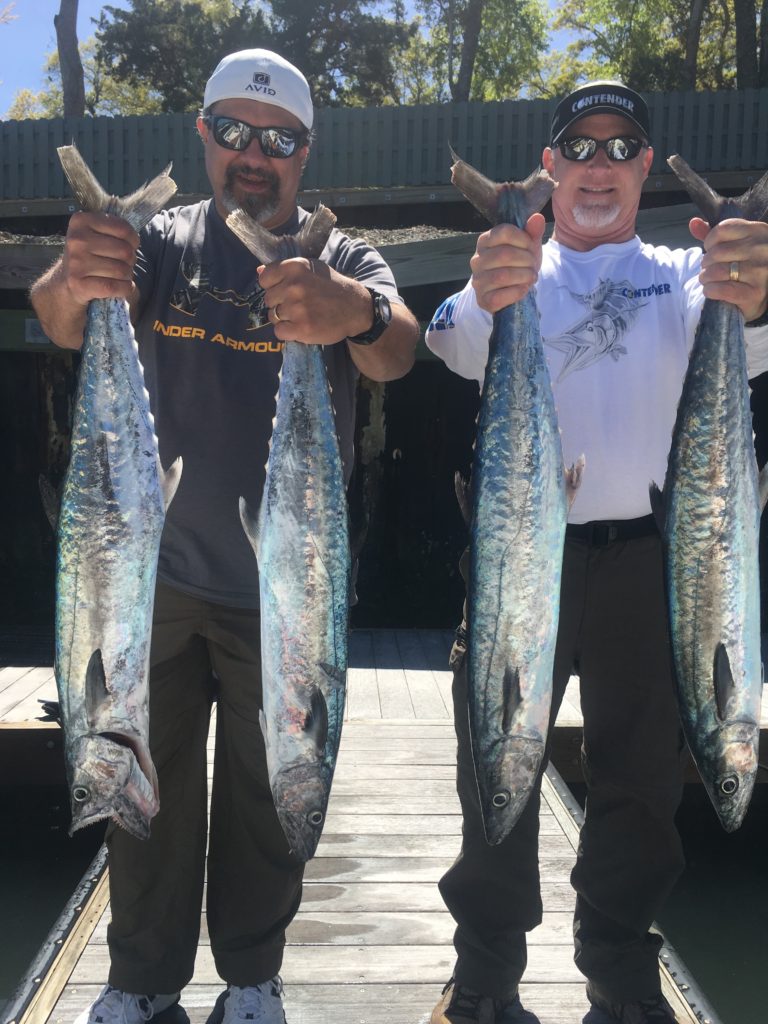 Trolling for King Mackerel is one heck of an adrenaline pumping good time. When hooked, these fish take off like a rocket, peeling off line at an incredible rate. For this reason, larger kings are referred to as smokers. Right now the king fishing is smoking! Trolling Yo-zuri lures within the 15 to 26 mile mark, which puts us in the Gulf Stream, is producing a solid kingfish bite. Hold on!
There's nothing quite as exciting as a topwater bite, and the bonita and false albacore are heavy hitters when it comes to exploding on the surface of the water. These topwater explosions often times ignite a feeding frenzy in which you can expect to have hook ups on all the lines in the water. This is an exciting time as many anglers will bring in fish after fish after fish after…. Be sure to eat your Wheaties!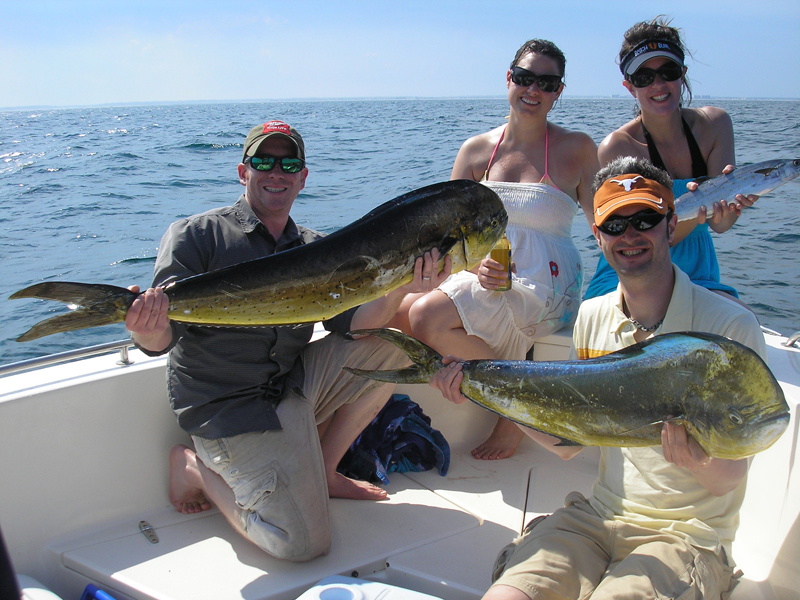 Then there's mahi. These beautifully colored green and blue fish are one of the most sought after deep sea fish in the area. Not only are they a blast to catch with their acrobatic displays once hooked, but their firm, white meat is some of the best table fare around. Once you find one, there are more typically schooling around so keep your lines wet and ready.
Wahoo! No, I'm not talking about the interjection, but the noun. Wahoos are notorious for being a ferocious predator that roams the pelagic zone of the ocean. Razor sharp teeth and a streamlined body make these fish top dog in the underwater world. Similar to their cousin, the kingfish, these fish are a blast to catch. Big strikes, long runs and lightning fast speed make these predators high on the targeted game fish list. The Hawaiian word for Wahoo is Ono which means delicious tasting, so be sure to put your next Wahoo on ice!
These fish and more can be found swimming the waters off of Wilmington, NC right now, and they're hungry! Contact Captain Mike Hoffman of Wilmington.Fish Fishing Charters to book your deep sea fishing trip today and be sure to bring the whole family!